Murrells
87 Paddock Lane
Tel: 01273 487728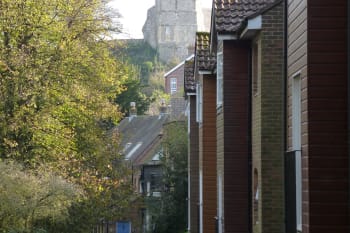 Situated in the centre of the beautiful town of Lewes, with easy access to and from the City of Brighton. The house is in a very quiet, tree-lined lane overlooking The Paddock. We offer one double room with a king sized bed, and a twin/double room with 2 singles that convert to a super king bed. Bedrooms are beautifully furnished with Egyptian cotton, TV, free wifi and tea making facilities in both rooms. Please confirm which room(s) you would like and whether a cot is required. We welcome single occupancy, but this can only be booked within four weeks of your arrival date. A clean and modern bathroom/wet room with free standing bath and walk-in shower. As we only have one bathroom for our clients, once a room is reserved we then don't let out the second room, unless it is friends sharing, or a family. Please note that the bedrooms are on the second floor up 2 flights of steps. In the morning we offer a full breakfast with homemade bread and preserves too.
Facilities
Breakfast Room
Children Welcome
Early Breakfast By Arrangement
Garden For Residents' Use
Internet Access
Shuttle to City Centre
Policies
Check In: Between 15:00 and 21:00
Check Out: Between 7:00 and 10:00
Wi-fi: Wireless internet is available and is free of charge.
Smoking: There is no smoking permitted anywhere within the property.
Parking: Parking for all guests is available on site and is free of charge.


Children: Children of all ages are welcome.
Pets: Pets are not allowed.
Groups: Groups are accepted up to a maximum of 4 people. No stag and hen groups.
Average
4.9
out of 5
23 reviews
100% recommend
Reviews
7th September 2020:

Wonderfully friendly hosts, comfortable and spacious rooms. Peaceful and quiet location with lovely views.
Tips:
In a very quiet area but only a short walk to the town centre with its shops, pubs and restaurants. Would definitely recommend.
Would Recommend: Yes
Owner Response:
Ann it was very nice to meet you and your son and I'm very pleased you enjoyed your time here with us. Look forward to seeing you again next time you are visiting from Canada. All the best. Tony
23rd October 2019:

They are helpful, courteous and friendly without being intrusive. Their knowledge of the area and its ways is unsurpassed, as are their breakfasts. This is customer friendly B and B at the highest level and at reasonable prices.
Tips:
Dine at The Rights of Man or the Pelham Arms (advisable to book ahead). Don't miss the second hand bookshops: Bow Windows for beautiful and excellent editions, A and Y Cummings for some curiosities and old-fashioned atmosphere. The High Street is beautiful, but look beyond and see the Downs. Look out for intriguing coats of arms and inscriptions. A look or two at the book 'Secret Lewes' gives some background to these.
Would Recommend: Yes
25th August 2019:

Warm welcome and excellent breakfast. We really enjoyed our stay.
Tips:
Good location for visits to Glyndebourne
Would Recommend: Yes
10th July 2019:

Excellent B&B ! , stayed with Tony and Nicky for 3 nights , clean modern facilities , great breakfast and excellent hospitality all round ! would certainly recommend it
Would Recommend: Yes
2nd February 2019:

The cleanest B&B in the world - also Tony is always welcoming and cooks a nice brekky too!
Would Recommend: Yes
21st August 2018:

We couldn't have been made more welcome by Tony and Nicky. They did everything to make us feel at home. Tony's breakfasts were brilliant with everything locally sourced and beautifully cooked and presented. Nicky's home made jams and marmalade were lovely too.
Tips:
You'll need Tony's directions, or sat nav to find their little street - but once you are in and parked everything in Lewes is so close. We loved the town and all its independent shops. Don't miss the superb new arts and cinema complex down by the station - The Depot.
Would Recommend: Yes
6th July 2018:

We stayed at Murrell's for two nights and really enjoyed the stay , the rooms/bathroom are extremely comfortable and clean and not too mention a great choice of breakfast , Tony and Nicky were super hosts , very kind and nothing was a problem , overall made it a great stay indeed.
Would Recommend: Yes
16th June 2018:

Superb experience. Lovely hosts and an absolute gem of a find for us. Especially enjoyed the homemade jams and the lovely aspect out the back of the house.
Tips:
Right of man pub for food and ambiance. Lewes Castle well worth a visit and the twittens!
Would Recommend: Yes
13th June 2018:

Wonderful location in the centre of Lewes. Beautiful room with a lovely view of trees and a great bathroom with a powerful shower. Tony and Nicky are very considerate hosts providing lots of information and a delicious breakfast. We hope to return in the future.
Tips:
Lewes is a lovely town to wander around.
Would Recommend: Yes
23rd May 2018:

Would Recommend: Yes
10th May 2018:

This B and B is on a tricky road to negotiate as it is very narrow. But the owner made some parking available to us which is good because I think parking is at a premium in Lewes
Tips:
From here it is an easy walk to restaurants, cafes and bars
Would Recommend: Yes
2nd May 2018:

Tony and Nicky are well-travelled and it shows. The B&B is thoughtfully designed, equipped, and managed. Breakfast is delicious with many choices. The hosts are friendly and helpful but never intrusive. An excellent example of what a B&B should be.
Tips:
The Depot is a great place for independent cinema and good food.
Would Recommend: Yes
26th January 2018:

thanks for the stay; my only comment would be the addition of a small table/desk; as a professional traveller, it is useful to be able to work from a desk in my room.
Would Recommend: Yes
22nd January 2018:

Lovely hosts, who were very helpful and welcoming. Best breakfasts I have ever had - homemade or locally sourced produce. Beautiful room, quiet location but close to High St.
Tips:
We ate at Right to Arms pub and hioghly recommend the food!
Would Recommend: Yes
18th December 2017:

It felt odd not to have a lock on bedroom or bathroom door. Probably more of a comment about me than my hosts, who were delightful.
Tips:
NB Paddock Lane is one way and has to be approached from the Paddock Rd end.
Would Recommend: Yes
24th October 2017:

Tips:
Walking to/from the town centre: A charming, slightly shorter alternative to walking up Irelands lane to High Street is to go down Paddock Lane, up the path to the right, up the stairs, behind the castle, and down the narrow The Passage. Exit on High Street underneath the clock on St Michael in Lewes Church. And for some entertainment and atmosphere on Saturdays, try http://lewessaturdayfolkclub.org/ at the Elephant & Castle.
Would Recommend: Yes
28th September 2017:

Genuine couple made me feel at home ,nothing to much trouble ,breakfast exceptional...this is not just an ordinary b&b Perfectly placed to nip in to Brighton on the train or the bus
Tips:
Trains are so easy to use for Brighton The station is a short walk away Very peaceful , lovely area The road to the house sounds daunting but easy enough to get by I parked up for my stay and used the train
Would Recommend: Yes
9th August 2017:

Tony and his wife are what make Murrells from Tony's initial welcome through to his homemade bread (accompanied by his wife's homemade preserves), excellent breakfast (cooked to order), attention to detail in our double bedroom and bathroom, Tony's presence (should you need anything) and finally his warm goodbye as you leave.
Tips:
We choose Lewes because of the ease of access onto the South Downs. Tony is very knowledgeable of where to walk both in and around Lewes and beyond. Sadly, we did not have the time to explore all his good advice. From Lewes rail station it is very easy to get to Eastbourne and all its attractions. Having a Network Rail card meant a return was only £5.30 (on a Saturday) so cheaper than petrol and parking - a real bonus.
Would Recommend: Yes
26th July 2017:

Charming, welcoming hosts. Delicious, freshly cooked breakfasts. Beautiful, well-equipped accommodation in a quiet location.
Would Recommend: Yes
27th June 2017:

Lovely B&B,great comfort,clean and tidy. Tony was extremely kind with us, always ready to help us, to recommend places to visit and things to do. Delicious breakfast with homely made bread and jams. I can't way to my next visit.
Would Recommend: Yes
1st June 2017:

Very nice place to stay in, town and station is close by. Everything is good standard, breakfast fantastic!
Tips:
Lewes has it all - lots of pubs (we likes Rights of man and Brewers Arms on High St), cafes (we like Flint Owl on High St) and lots of indecent shops. Don't miss the castle, Anne of Cleevs house and the Southover Grange gardens. There a lots of walks from Lewes - for example to Alfiston (3-4 hours) and to Ditchling: nice villages to visit.
Would Recommend: Yes
17th May 2017:

Would Recommend: Yes
8th April 2017:

Welcoming, very accommodating and provided great advice with regard to town/ south Downs Way. Wonderful personal touch provided by the hosts and a place of peace ( being away from the main thoroughfare). Would certainly return.
Would Recommend: Yes
.